Heyku.me – A Japanese dining room is a wonderful example of a zen-like, cozy atmosphere. Japanese design is full of natural materials such as wood grains and woven grass mats. Combined with a few key pieces, natural elements can create a vibrant dining room that will be the envy of your friends. Below are a few important tips to consider when designing a Japanese dining room. To get started, check out these pictures of traditional Japanese dining rooms.
Choice of the Right Dining Table
First, choose the right dining table. Many traditional Japanese dining rooms have very long tables and are often doubled as living spaces. Make sure to find an extra-long table so your guests don't feel cramped. If you're using a low Japanese-style table, consider buying legless chairs instead. Choose a table that is made of wood and has a black or orange lacquer finish. Matching chairs will increase the sense of simplicity. Other important elements of a Japanese dining room include a simple Japanese pillow called zabuton. Other elements include a standing lamp made of natural materials or a hanging lamp made of washi paper.
Another element of a Japanese dining room is the tatami mat. Typically, you'll find this type of flooring in private rooms and open dining rooms. These mats are thin, natural-fiber woven mats. You should never pair tatami mats with chairs. You can create the same look by using a bamboo or jute area rug. Using a tatami mat as a floor covering is not necessary, but it will help make your room feel more authentic.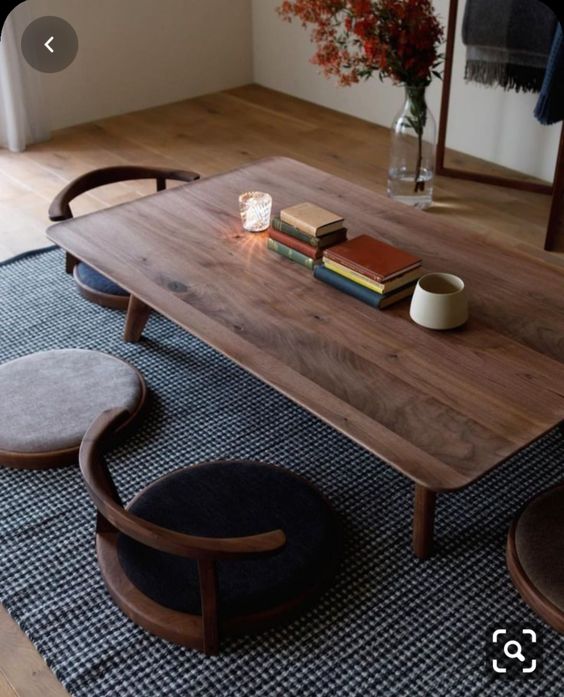 Another characteristic of a Japanese dining room is the lack of clutter. Most traditional Japanese houses are very small, so the dining room may double as a bedroom. In such cases, it is important to use sparse furniture. It also appeals to the Japanese minimalism. Using bright, vibrant colors and busy furniture will not look good in a Japanese dining room. Instead, try to choose decor that stretches the sense of space and appeals to the natural aesthetics.
Japanese Dining Room Interior with Calm Atmosphere
In addition to using rice paper to make the floor look soft and comfortable, Japanese dining rooms feature a shoji screen door to separate the dining area from the rest of the home. This helps to give the dining room a unique cultural signature. In addition to the shoji screens, Japanese interiors often incorporate natural lighting. Large windows provide ample natural light while translucent paper screens block out any unwanted views. In addition to the natural light, translucent lamps provide low lighting and create a serene atmosphere.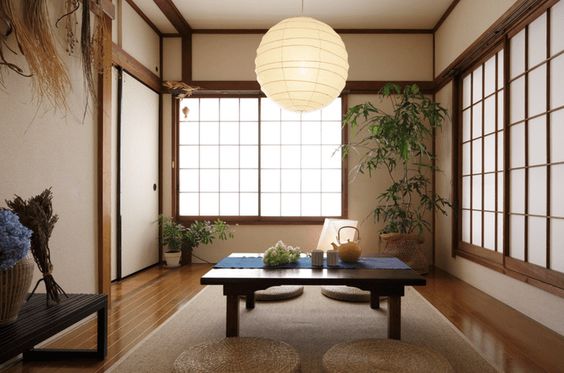 Another Japanese design feature is the chabudai table. This short table, which is 30 cm in height, is typically used in the dining room for informal meals. It has four legs and can be easily stored. As a result, it is ideal for any occasion, as it can accommodate a variety of seating arrangements. The chabudai is a versatile piece of furniture that fits the overall theme of a Japanese dining room.
Showing Comfort with a Big Table
In Japan, many restaurants offer Western-style table seating. Rather than ordering at the table, the staff asks for the number of diners before seating you. The table may also feature a large central table for the convenience of fast food. When you order, the staff will acknowledge you by nodding before you sit. And if there are two or more of you, the seat of honor is located at the farthest corner of the room.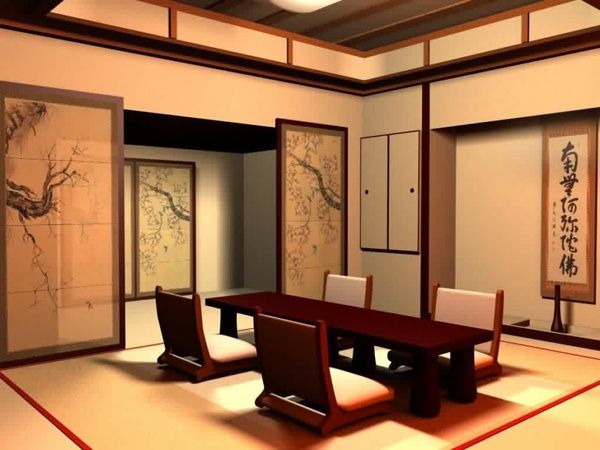 Another traditional Japanese dining room feature is kotatsu seating. Known as the kotatsu, this table is typically made of a quilt over a metal frame. The quilt helps keep the heat in and is used for meals, drinking, or studying. While less common today, they still add a unique touch to any dining room. So, if you're looking for a unique dining room experience, you might want to try a Japanese restaurant.