Heyku.me – The construction of a Sloped Green Roof has its own set of challenges. The biggest challenge is retaining soil on the roof, as sheer forces can pull the growing medium and plants off the roof. Manufacturers have responded to this challenge by creating products to address it. In case of moderate slopes, burlap or jute can be used as an over-growing medium. To stabilize moderate slopes, Colbond Enkamat can be used. This material is made of polypropylene fibers and can be quickly and easily penetrated by roots.
Creating a Beautiful Sloping Green Roof
In a recent Gwinnett Center installation, a team from landscape architect Jaeger Co., supplier American Hydrotech, and installer ProLandscapes worked to create a sloped green roof that was both durable and beautiful. The green roof team chose a contrasting planting scheme of water-loving vegetation on the bottom portion of the roof and arid soil at the top. A deeper growth medium is best near the top of the slope, where the moisture can be more easily absorbed. In addition, the soil beneath the substrate should be secured with a moisture-retention mat.
The City of Stuttgart, Germany, created a green roof with over 8,000 square feet of space. The green roof is cable-supported and contains richly textured perennials. New York Green Roofs worked with the landscape architecture firm HM White Site Architects to determine the plant palette and provided installation and ongoing maintenance services. This award-winning project showcases the power of sustainable, functional green roofs. There are many more examples of Sloped Green Roof installations and projects that highlight their benefits.
For extensive green roofs, native accent plants are best suited to the location. These plants may tolerate occasional irrigation. Native accent plants include Sedum ternatum, Opuntia humifusa, and Allium cernuum. These plants are suitable for shaded roofs and are also aesthetically pleasing. They may be difficult to maintain, so it is important to consider them before choosing the green roof installation.
System of Sloping Green Roof
The Sloped Green Roof System is designed to address these challenges. This system is lighter than soil-based substrates and ensures uniform water distribution. In addition, the Urbanscape(r) Inclined and Pitched Green Roof System is a reliable solution for any roof pitch. They have low weight and provide a reliable solution to all roof pitches, from flat to 45 degrees. This system can be installed in as little as a day.
In addition to offering insulation, a Sloped Green Roof is also useful for preventing flooding and filtering air pollutants. A Sloped Green Roof provides food for wildlife and filters pollutants from the air. A Sloped Green Roof is a sustainable and energy-efficient way to build a roof. These roofs can also prevent noise pollution. You should consider all these factors when choosing your green roof. But make sure you hire a specialist for your installation.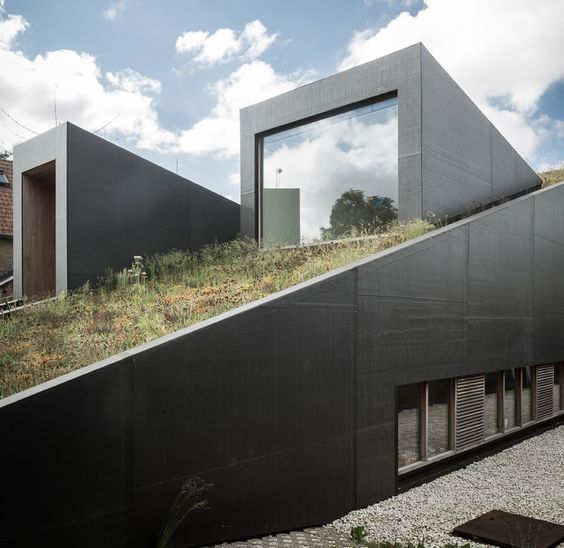 During the construction of a Sloped Green Roof, a civil engineer will design the building's utilities and water conveyance system. The civil engineer will also perform a site analysis and make plans for the placement of mechanical equipment on the roof deck. A mechanical engineer will also design the irrigation system. These professionals will design the irrigation system. Lastly, the landscape architect will provide guidance and design assistance on how best to install your Sloped Green Roof.
Nice Green Roof Design
Wind uplift can be a significant challenge for green roofs, particularly on tall buildings. The correct design can ensure the integrity of the roof even during high winds. A proper design will consider how high the building is exposed to wind and other elements. Soil and drainage systems are also factors to be considered when designing a Sloped Green Roof. For example, an appropriately designed roof may reduce wind pressure and add visual appeal. And remember, wind pressure is different on each rooftop.
Installing a Sloped Green Roof requires four layers. A water-buffering fleece is used to store water and a substrate holder is used to prevent the substrate from shifting. A sturdy, reinforced substrate holder is also necessary. Lastly, you should install an irrigation system. This system is essential to a successful Sloped Green Roof. Once installed, it will last for a very long time. The Sloped Green Roof will enhance the appearance and the value of your property.