Hi guys, today I would like to share a Candy Crush Saga game review special for you. I will write based on my experience while playing this one. This is a very challenging game and usually played by teenagers and adults. This is a game that uses a candy as the main feature, which must then be crushed or resolved with instructions that appear. This game is developed by King and can beat the game FarmVille 2. This is a game that requires intelligence and trains our ability to think so that each level can be resolved. Each level has a different command in its completion. Not everyone can go through this game at every level.
This chart-dominating game is available on all iOS devices, Android and Facebook! In the game, you are presented with a board of different colored and shaped candies. Each level has a different objective some require a minimum score, some require certain moves and others are timed. In this game, we get 5 lives we can use in the completion of this game. If 5 lives are given out, you have to wait or ask your friend for life's contribution. This can be done if you connect this game to your Facebook social media account. If you do not do it, so you must wait for a minute.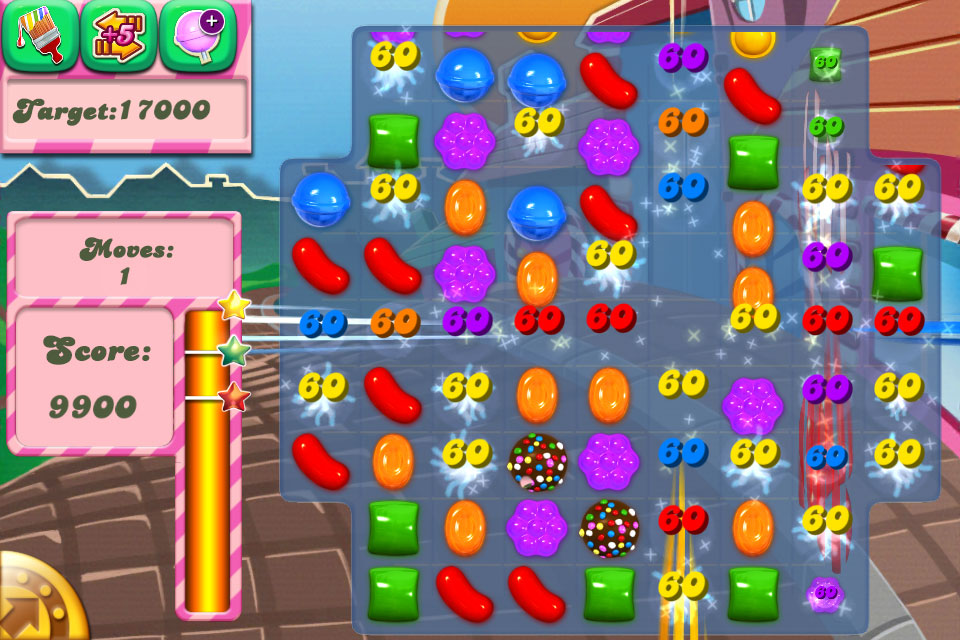 What is interesting about this game?
When you see this one, this game looks so colorful and attractive. In playing this game, we can get many interesting items such as a pink donut, chocolate ball, lollipop, jellyfish, and etc.

This item is not just any item, it can be used to destroy a jelly with a unique and cute shape.

But the real purpose of playing this game is to get golds.

If we collect many golds,

we can buy or exchange it with various types of candy bundle serves as a tool in carrying out missions.

It's very interesting and adorable because of its funny shapes.

Not only that, with this item we can finish every level of this game.



My Opinion About Candy Crush
Saga
I want to give my opinion about this Candy Crush Saga game review to you. This game is very fun and full of challenges.

We must think hard to finish each level in this game.

We also have to try to keep these lives in this game is not easily used up. Why? Because your lives used all already, so it makes you wait for a long time. This game is also very adorable with the features and shapes of the jelly or candy. There are hundreds of different levels of difficulty that you have to solve. Therefore, you must concentrate on playing it
How To Get Unlimited Lives Easily?
There is a tool that you can use to earn more lives easier to your account. Just click Candy Crush Saga hack to get unlimited lives for free. If you can get it, so it is easy for you to finish the level and get a gold also. You will mark as a robot, but do not hesitate, guys! Let's follow the way above to get it without buying in manual ways because it wasting a lot of time and much money also. Ok, don't wait so long, you have tried by yourself. Come on and apply it right now! That's all the Candy Crush Saga game review that I share with you. Good luck!